In the Field: Petzl in Hollywood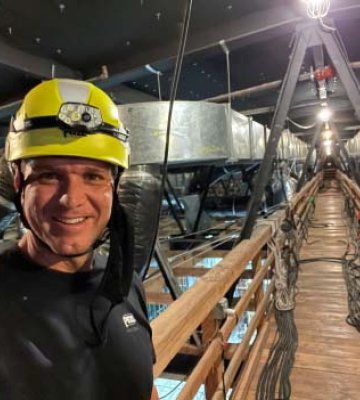 In the Field: Petzl in Hollywood
Post date
Sat, 03/05/2022
Today was an interesting day of learning about how some of our Petzl product get used in really cool alternative markets and applications.
Today's adventure took me to HOLLYWOOD with our good friends at Ver Sales Inc! The job for today was to inspect, evaluate, and relocate fall protection lifelines within a Hollywood Studio set. Just to bring you up to speed; Television and Movies sets are typically constructed inside a giant warehouse (also known as a sound stage/ studio. Workers are hired by the movie and TV production folks to assemble realistic building interiors and sets within these very large, enclosed buildings. Often these sets are constructed and attached (or hung) to the buildings rafter beam system by stage rigger personnel and doing so places these folks in a potentially dangerous work at height situation. My good friends at Ver sales are contracted to maintain safety lines within the rafters of the Studio's buildings to allow the working personnel in the rafters of a sound stage to clip themselves safely into a system that will protect them from potentially falling and getting themselves severely injured.
This was a great opportunity for me to get to use Petzl's rope access and fall protection gear, and also use Petzl's amazing range of headlamps; it's somewhat dark way up there…and max light is needed!  Our job today was to insure all of these safety lines visually and physically were in good operation and up to code so as to keep everyone safe.
Selling Petzl's innovative PPE gear and lighting is super fun…but getting to use it in a real-life application is the BEST!