Looking Back on Summer 2021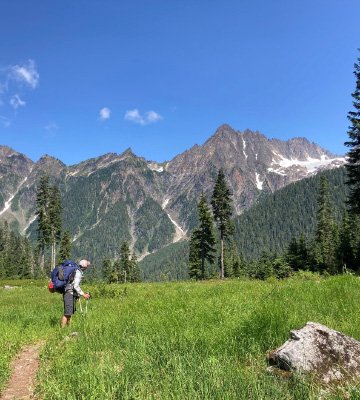 Looking Back on Summer 2021
Post date
Fri, 04/01/2022
Looking back at Mount Olympus, the highest point in Olympic National Park, was the highlight of a week- long backpacking trip I did last summer.  This meadow was my favorite section of the trip; no people to be seen and on high alert for bears. The meadow seemed to be untouched by humans. In preparing for my trip, I made a conscious effort to use at least one product from each of the brands the Alta Group represents. Typically, it is easy to use products from our brands during individual activities; Petzl for rock climbing, Primus for camping, Crazy Creek for stadium seating, Mazama Designs for mountain biking, Oboz for hiking, Adventure Ready Brands for emergency preparedness and Nikwax for cleaning and conditioning my technical apparel. From the minute I decided to make the trip, I planned out what product from each of our brands I would use during the trip.   
I started off by using Nikwax Tent and Gear Solarwash and Tent and Gear Solarproof to clean and condition my backpack and tent.   At the beginning and end of each season, I clean and condition my gear to prolong its life. 
Next step was to review the Mountaineers 10 Essentials. The widely respected safety and packing system, dating back to the 1930's, was my checklist for packing. The 10 Essentials answers 2 basic questions: 1) Can you prevent emergencies and respond positively should one occur? 2) Can you safely spend a night or more outside?  As I went through the 10 Essentials, I kept in mind product from our brands. It was easy to pack multiple items from each brand. 
Mountaineers 10 Essentials:
Navigation
Headlamp
Sun Protection
First Aid
Knife
Fire
Shelter
Extra Food
Extra Water
Extra Clothes
In my gear pile I threw in the following from of our brands:
Petzl – Actik Core Headlamp, Core Battery, and Noctilight
Adventure Ready Brands – Mountain Series Backpacker Medical Kit, Counter Assault Bear Spray, Stoke Field Knife with tinder cord and flint fire starter, Slim Rescue Howler Whistle, and Deluxe Map Compass
Primus – Lite + Stove, Fuel, Trek Pot, and Long Spoon
Oboz – Arete Mid Bdry
Crazy Creek – Hex 2.0 Original Chair
Mazama Designs – Intake 2 Liter
I packed the suggested gear and felt ready to spend multiple nights backpacking. Each of our brands makes quality product for adventures. It was gratifying to use our products firsthand. Aside from having to eat powdered peanut butter on my last day, the trip was a success and one to remember.  Can't wait for this summer.