Lee Vining Canyon – Rare California Ice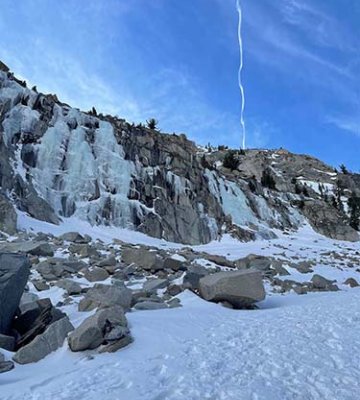 Lee Vining Canyon – Rare California Ice
Post date
Mon, 01/24/2022
Justin: Yo Scott, what did the Sierra Mountain Guide trip report say on their last update? 

Me: Looks like the ice is forming and hike is filled in and packed down so no need for show shoes… but a weird warming trend coming through…

Me: As long as it keeps freezing up at night we should be good!
Finding the right conditions for ice to form on earth can be tough… trying to find those conditions in sunny California is even tougher. Luckily the Sierra Mountains poke up high into the atmosphere and create a nice shady canyon called Lee Vining. Anyone who has ventured into Yosemite National Park from the eastside Tioga Pass entrance has driven right past the only area in California to get "consistent" climbable ice each winter. Having a flexible schedule and flexible partners who can strike when the ice comes in are some keys to successful trip.
Luckily all those conditions came together the second week of January 2022. We had just gotten a HUGE dump of snow in December. I think it tied or broke a 50 year old record from 1970! And then things got dry. Which is bad for powder enthusiasts but creates a great melt-freeze cycle. This cycle benefits ice climbs by melting the fresh fallen snow sitting on top of the cliffs as daytime temps hit 40's and sometimes 50's. Then the flowing melt water freezes up as it flows down over the rock. The result becomes a beautiful climbable ice structure that only exists as long as mother nature allows. That could be a few weeks, few days, or even a few hours.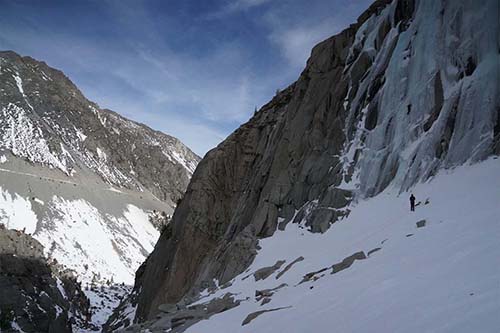 Justin and I had been planning to go toward the end of January but with the melt-freeze cycle in full force we moved it up a couple of weeks to get it while the getting' is good. And it sure was good! We had only a week-old SMG trip report to go on and a few people posting about less than ideal conditions, but we decided to risk it. It was going to be his first-time ice climbing and the possibility to climb any ice was worth the risk of taking our tools for a walk. 
I left Reno, NV at 5:30am and picked him up at 6:00am from Carson City, NV. We parked at Poole Powerplant around 8:40am and hiked up along the snow-covered Lee Vining creek. The big December snow filled in the boulder field and made the hike a simple compact snow ramp instead of boulder hopping. After about 30 minutes we made it to the base of the ice crag. We were pleasantly surprised to find the ice looked even fatter and bluer than the photos we had seen over the past week. I think the previous couple days had temps the 50's but then a cold spell came in when we got there, which improved conditions.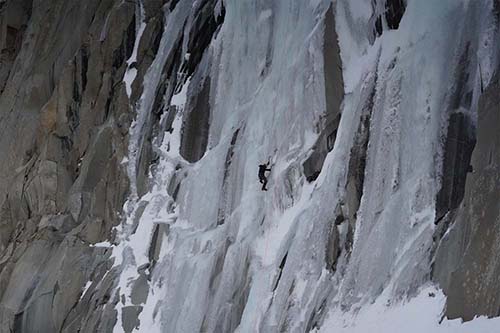 I have lead ice climbs before in Utah and Colorado but since this my first experience with California ice we elected to rig up a top-rope and enjoy the day swinging and kicking without consequence. The ice was close to perfect and in some cases plastic to where you felt like your tools and crampons would stick to anywhere on the ice!
We had a great day trading turns on the rope climbing tons of different lines up the ice. Justin picked up ice climbing fast with a background in rock and tree climbing. There were only 2 other climbers that came up for the day besides us. They were super cool, and we traded ropes to gain access to even more of the crag without the extra work of re-rigging. Love when climbers collaborate! The ice stayed in the shade all day and we climbed until we hiked out at sunset around 4:45pm. 
In conclusion, its best to follow your own intuitions and take a chance if you think it could be possible. Also having really low expectations and being thankful for anything you do get!  
"Taking your tools for a walk": Ice climbers adage, meaning one hiked all the way into an ice climbing crag to learn none of the ice is climbable or the conditions are dangerous . 
"Plastic Ice": Ice that is so sticky and nice that it only takes one swing of the axe and it sticks like it was plastic. Fun climbing conditions!