Crazy Creek makes sitting anywhere fun!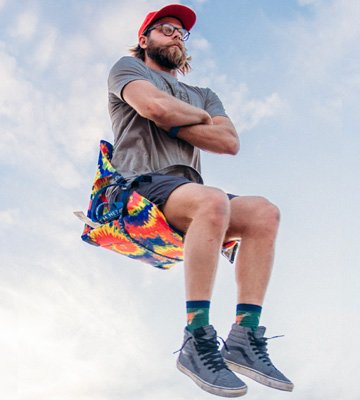 Crazy Creek makes sitting anywhere fun!
Post date
Wed, 10/27/2021
Interview by Steven Masters
When Alta Group was approached in 2020 with the opportunity to work with Crazy Creek , my brain said "Sweet, Crazy Creek makes legendary chairs!" But my body chimed in "you know you're not in your 20s anymore, do you really want to sit on the ground?" Mind over matter though, right?
The past year was a blast sharing the fun and excitement that is Crazy Creek, and hearing stories from both dealers and customers about their favorite Crazy Creek memories. There is truly nothing better than working for family run companies. This month I sat down with Forrest Rogers, President of Crazy Creek, to provide a glimpse into what makes Crazy Creek the best way to sit anywhere!
Q: Tell us a little about yourself, and what brought you to Crazy Creek? 
A: Born and raised in Arkansas and North Carolina I was lucky enough to meet and marry a Montana girl whose family were avid lovers of a little town called Red Lodge.  After getting married here 18 years ago, we set a goal in our lives to live in Red Lodge, raise our kiddos here and be a part of a small community. The owners of Crazy Creek were friends of my father in law and for 8 years we begged them to sell Crazy Creek to us…nothing like a world pandemic to make people want to retire!  So in June 2020 our dreams came true and myself and my brother in law Karson were able to buy the brand.
Q: Crazy Creek started making chairs in Red Lodge, Montana in 1987. Take us on the time warp from then until your arrival.
A: From 1987 to 2000 all Crazy Creek's were made by hand here in Red Lodge.  What started with two sewing machines in the basement downtown to at one point 40 sewing machines cranking out 120,000 chairs a year in our current warehouse.  But as the world economy changed, along with the inability to find labor to sew chairs in a resort town in Montana….Crazy Creek went overseas.  All Crazy Creek Products are made in Nike Spec facilities in China and Indonesia, but are shipped to Red Lodge and distributed to North America from here.  Even though we are 35 years old, we are just now setting up distribution and sales in Europe and other parts of the world, of which that product will never make it to Red Lodge, as we'll ship direct.  A fun story starting with Rob Hart and 1 employee to at one point employing over 50 people to today, we run Crazy Creek pretty lean with just 5 employees.
 
Q: What makes Crazy Creek a great brand? 
A: We invented an entire category of outdoor products- the legless chair!  Over the years there were at least a dozen other brands knocking off the Original Crazy Creek, all but one have faded away!  Why? Our brand is strong ands the warranty and construction are stronger.  We were invented by a prolific mountain and ice climber, the original sewing/build process was built to withstand countless trips to the top of Everest, K2, McKinley, the North & South Pole…you name it a Crazy Creek has been there all over the world.  We build them to the same specs and design today as we did 35 years ago.  We've got millions of chairs out there, yet we spend more on plow truck gas than we do on our lifetime warranty annually. 
 
Q: What are you most excited about in the next few years? 
A: Growing the brand to its peak, all over the world.  There are over 6 billion butts in this world, they all gotta sit somewhere!  We've cleaned up and gotten rid of all slow moving items we had, focusing truly on just the chairs.  We have several new products coming in 2022 (hopefully) that compliment the line perfectly, really can't wait to share those new products with the world!  But ultimately we want to build a brand strong enough that our kids can take the company over and have it thrive for at least another 35 years.